Shirtwaist dress has all those elements you desire, cotton, one size fits all, and a dream to wear.  Pockets, covered arms, detailed tailoring with  cuffs and collar, easy to wear, comfort and style.  We added some hand stitched details along the pocket and collar.  Anything else you'd like?  One size fits most as the elastic can grow or shrink as you do and the armhole is deep for various size bustlines.
This can be made in a linen/rayon blend as well.  Please inquire.
Our aim is to create pieces that will become wardrobe favorites, that will be long lasting and well worn, encouraging a connection with your garment as it is worn through the seasons.
Please wash at 30 degrees with an eco washing detergent.  We preshrank this dress so it's soft and lucisous against your skin.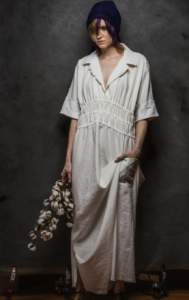 Here is the linen/rayon blend Lux dress. Please inquire if you'd prefer this rendition. designroom@brooksltd.net
Only logged in customers who have purchased this product may leave a review.